Follow us in last activities of INCA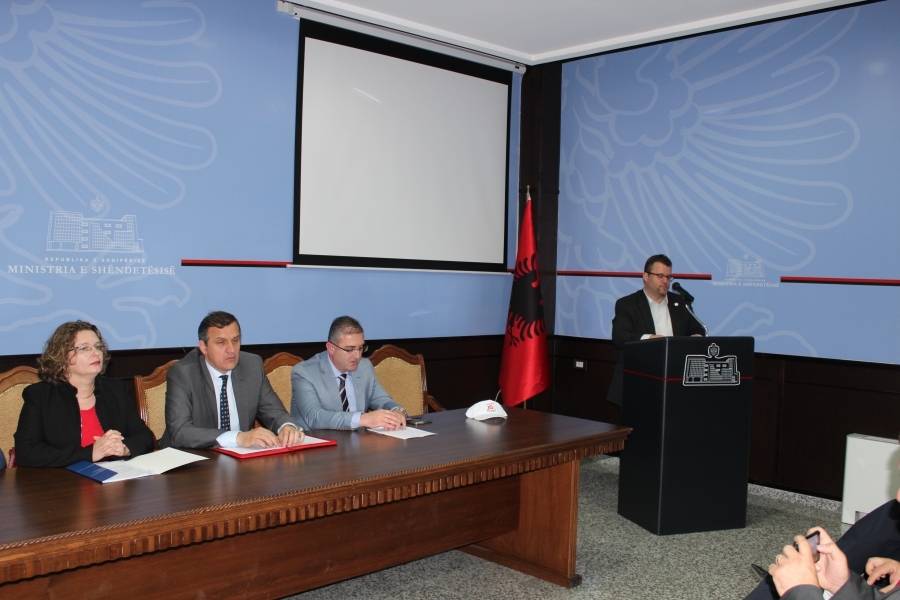 A smoke-free country, a healthy society
Tirana, May 31, 2015 — The awards of the competition "A smoke-free country, a healthy society" and the announcement of the winning team of the football championship between high schools in Tirana, marked the end of the World Week Against Smoking.
In this activity were invited the Minister of Helth, Mr. Ilir Beqja, Deputy Minister of Health, Mrs. Milva Ekonomi, Head of WHO in Albania, Mrs. Ledja Lazëri, Cheaf Inspector of the State Health Inspectoriat, Mr. Eltar Deda, representatives fro Civil Society, high school students and other representatives.
The Minister of Health, Mr. Ilir Beqja has been awarded by the WHO, with the prize of the "World Day without Smoking, as a sign of appreciation for Albania's energetic efforts under your leadership and wisdom in the fight against the epidemic of smoking and to protect public health".
In his speach, Minister Beqja expressed the desire to share WHO award with all Albanians who were part of the rigorous implementation of anti-tobacco law requirements. He also expressed his gratitude to the Government and the Parliament for the adoption of the proposed package of legal changes in order to improve the implementation of the anti-tobacco law, as well as the Health State Inspectorate and the Media and Civil Society for their important contriution in the war against smoking.
Several activities were organised during this week under the motto "Let's Quit Smoking Together". The lounching event was organised at the premisses of the Ministry of Health, followed by the competition "A smoke-free country, a healthy society", organised at the Jordan Misja Artistic Liceum. Open forums were also organised with several high school students on smoking negative effects on health, followed by a football championship "No Smoking Albania'. An important event was also the meeting "on implementation of the WHO Framework Convention on Tobacco Control in Albania – the implementation measures and future policies".
The high schools that have been awarded during the World Week without Smoking 2015 were:
· Artistic Liceum "Jordan Misja" in Tirana received a certificate of gratitude for organizing and sponsoring the best painting competition on anti-smoking. Three students from Liceum were honored with awards.
· "Partizani", "Harry Fulltz", "Sami Frashëri" and Economic-Tecnical high schools took part in the minifutball championship organised for the "No Smoking Albania" Cup. Sami Frasheri School won the cup after beating the Economic-Tecnical schools in the final match.
· "Fan Noli" school organized a meeting with students of the 7, 8, e 9th grade on harms caused by tabaco, facilitated by the Health Journalists Association.