Follow us in last activities of INCA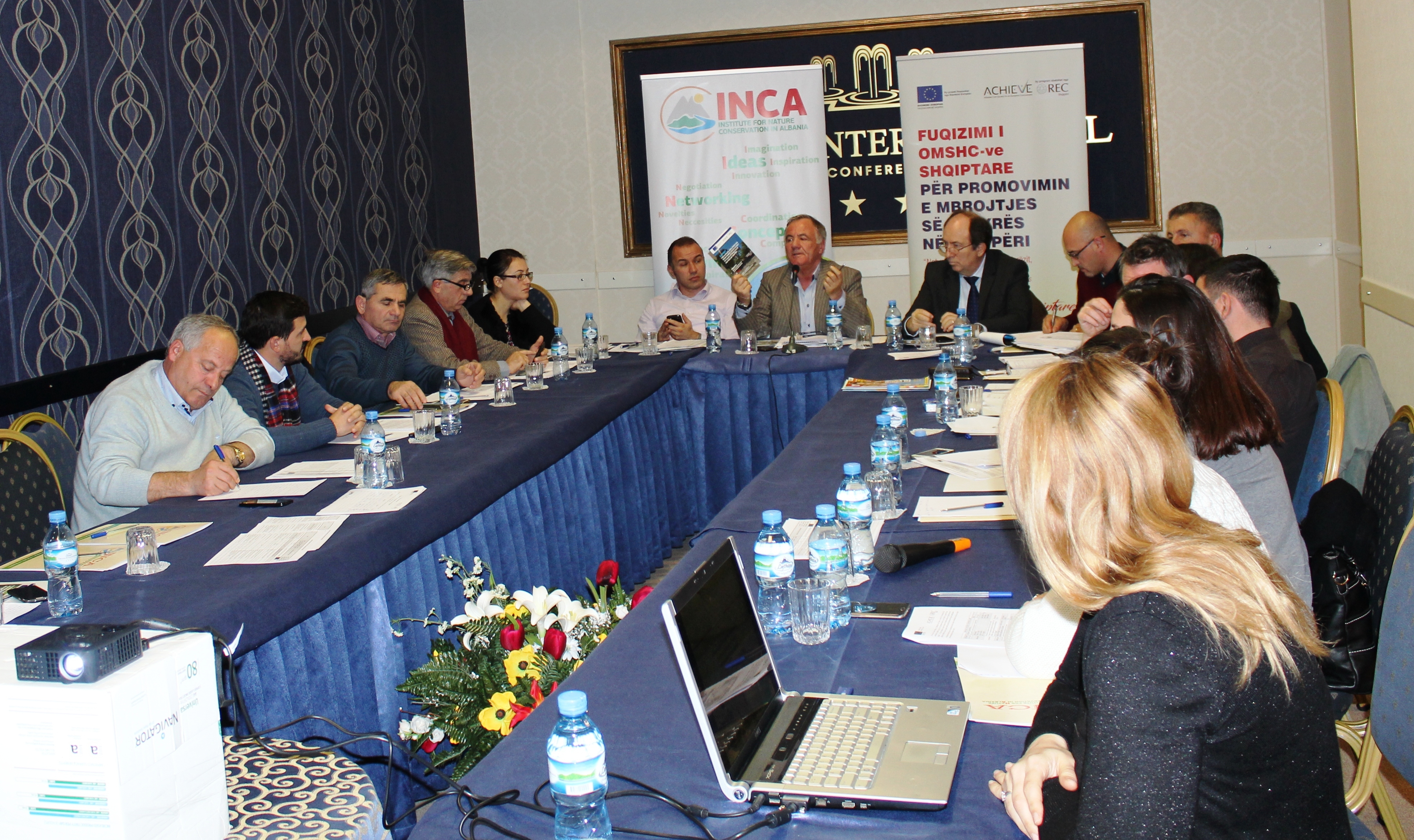 Wild animals' treatment and care in Albania
Broshura PDF:

Shiko dokumentin
Tirana, 16 December 2016 – The Institute for Nature Conservation in Albania (INCA) has organized a round table entitled "Wild animals' treatment and care in Albania". The round table has been organized in the framework of the project "Strengthening of Civil Society Environmental Organizations (OMSHC) to promote nature conservation in Albania", supported by the ACHIEVE program.
The meeting was attended by representatives of the Ministry of Environment, NAPA, REC Albania, the ISHMP, the organization "Four Paws" and representatives from civil society organizations from Kosovo and Italy.
The focus of this round table was to discuss the problems of keeping the bears in captivity state and individuals of wild animals used for collections, mummification, etc.
The meeting emphasized the increased efforts by Ministry of Environment for strengthening control measures and legal enforcements, as well as the coordination for joining efforts to improve the situation regarding cases of aggravated abuse with wild animals.
Supported by the ACHIEVE program, INCA has started activities for national evaluation and monitoring of the existing situation regarding the zoo gardens and handling of the wild animals in them. Meanwhile, other organizations are continuing their fight against cases of bears kept in the slavery state.
Among other things, this round table discussed the startup process of assessing the situation, inventory, deployment of microchips to bears, as well as the matriculation of individuals collected from wild species used for collections and exposure, trophy, taxidermy, in local trade, local services. This includes also parts of their body like horns, teeth, feathers, etc. Providing relevant matriculates to wild individuals and their parts, need to be enforced in line with the provisions of the Law no. 9867 (amended), dated 31.01.2008 "On the protection of wild fauna".
A new initiative has been also presented at the meeting to create the "Bears Albania Group", in order to establish concrete steps for collaboration with all stakeholders for the salvation of wild animals kept in slavery state or in other illegal conditions.